WATER FILTRATION MODEL RO500-CF REVERSE OSMOSIS SYSTEM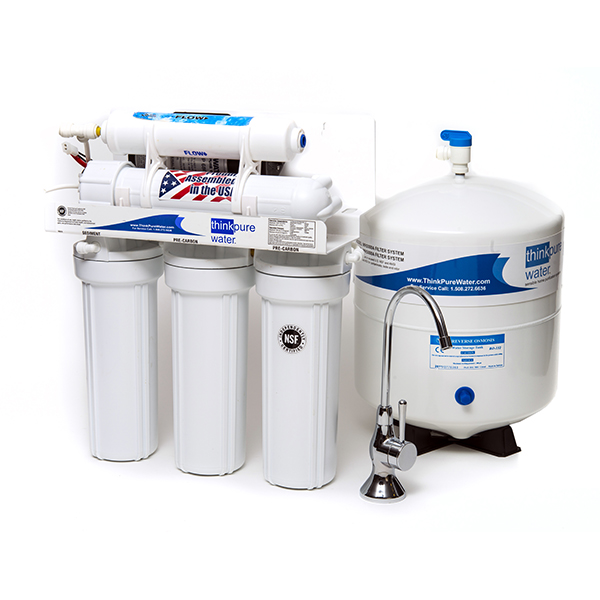 The RO500-CF is a quality built 5 stage Reverse Osmosis drinking water system. It produces very pure spring like water that is healthy and refreshing. It is designed to be installed under the kitchen sink, in a utility room or in the basement. A separate small faucet is installed at the kitchen sink, and, if desired, a line can also be run to the refrigerator for ice making and chilled drinking water. RO technology removes or significantly reduces hundreds of potentially harmful chemicals such as chlorine, lead, arsenic, barium, cadmium and fluoride as well as a variety of waterborne microorganisms. This system is sized for an average family's needs for cooking and drinking water.
FEATURES AND SPECIFICATIONS                                                                                                                                                                                                       
Full 5 stage purification
U.S. made RO membrane
50 gallon per day capacity
Carbon block pre filters
Choice of faucet design and finish
John Guest quality fittings
2.5 Gallon storage tank
Meets NSF and ANSI Standard 58
RO500-CF 5 Stage Reverse Osmosis System $998.00 including delivery and under sink installation. Sales tax on materials additional. Remote location install additional.
PH Neutralizer-Remineralizer Cartridges available as a 6th Stage at additional cost.
Installation and Plumbing For under sink installation, this unit connects to a specialized fitting (supplied) above the cold water shutoff valve. A separate new faucet is installed in a convenient location thru the countertop at the sink. RO units produce waste water which is connected to the disposal or sink drain. For remote location installs such as a utility room or in the basement, John Guest plenum rated color coded plastic lines are used to plumb in the unit. This setup, although more costly is often more desirable as it frees up the sink cabinet for normal use. It is also easier to service the unit when it is wall mounted in an easy access location. After careful consideration and consultation with the homeowner, we will drill thru the countertop for the new faucet placement and installation.
Required Service Intervals For average municipal water conditions, the sediment and 2 carbon block filters should be changed every 8 to 12 months. Our technicians will remove and dispose used cartridges, professionally clean and disinfect housings and install fresh O-ring gaskets and cartridges. At each service we also check the water quality with a T.D.S meter to verify the proper function of the R.O. membrane. Service cost $169.00 (including cartridges and O-rings, sales tax additional). After installation, annual maintenance is about .40 cents per day for an unlimited amount of drinking water. Considering that RO water is as pure as or pure than most bottled water, it really makes good sense to take advantage of this modern and dependable water purification technology.