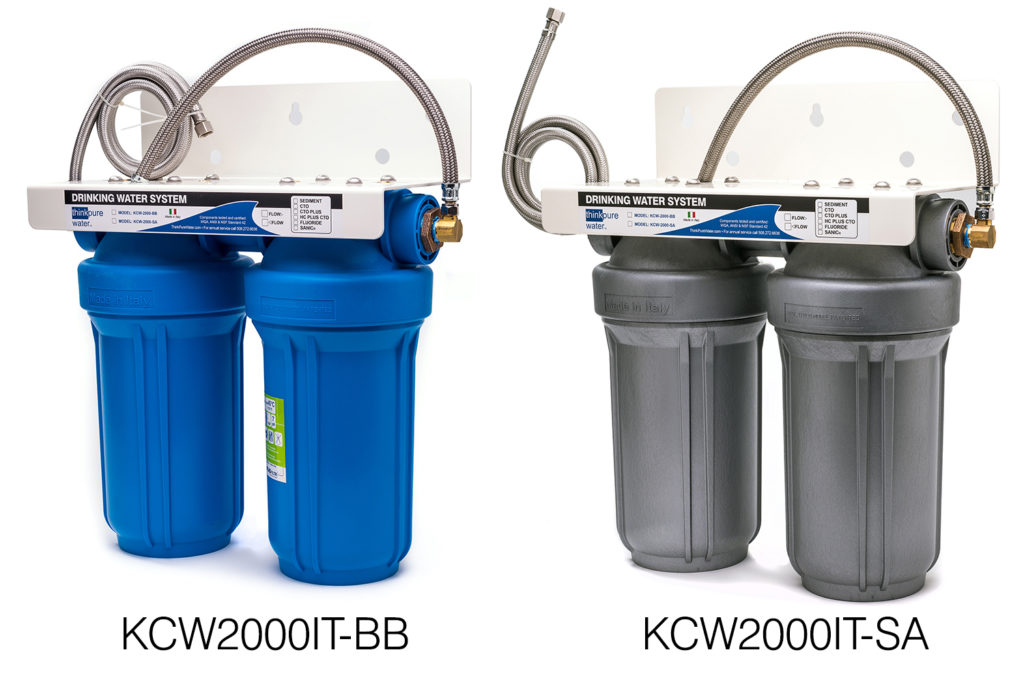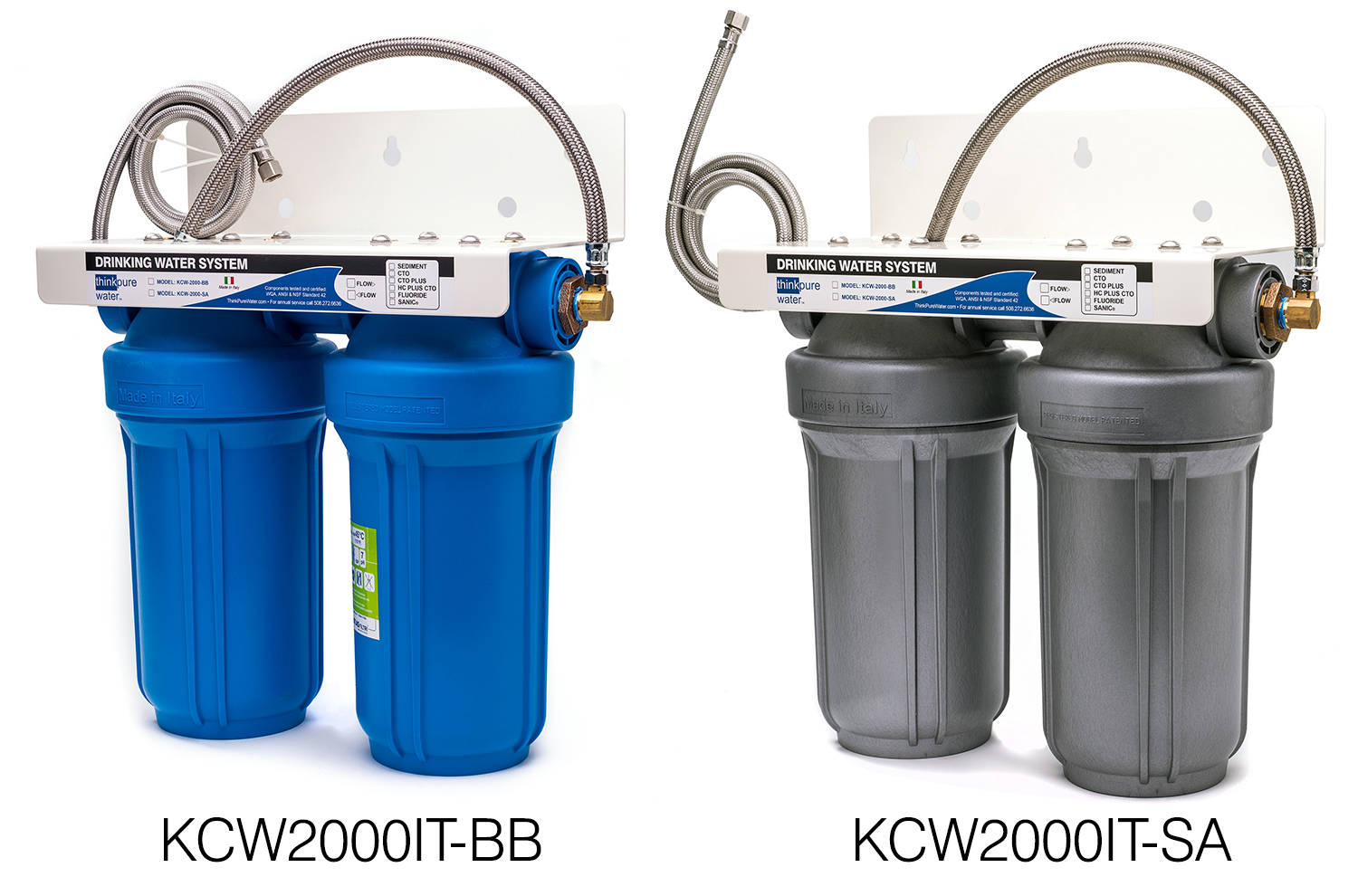 MODEL KCW2000IT SERIES UNDER SINK DRINKING WATER FILTER  MADE IN ITALY
MODEL KCW2000IT-BB This unit is designed for chlorinated municipal water.
MODEL KCW200IT-SA This unit is designed for untreated or well water. These specialized housings are impregnated with Ionic Silver. This patented process helps to prevent biological contaminates, often found in untreated well water, from taking hold inside the filter system. It is proven effective and 100% safe and natural. No silver is released into the purified water. ( see disclaimer )
This rugged, high volume, commercial grade filter system is simply the best value available anywhere. Wether you are a chef, or want unlimited amounts of highly purified drinking water, this unit is for you. The KCW2000IT series fits easily under any sink and connects in minutes to the cold water side of your existing sink faucet with included 3/8″ compression hoses. Your cold tap water is transformed into delicious tasting purified water. Water flow remains strong as housing ports are 10 times the capacity of your existing fittings. Best of all is the whopping 16,000 gallons or 18 months between filter cartridge changes! That's what commercial grade filters are all about! You would need over 300 plastic jug filters for this amount of water. Box store filters cannot even come close to the quality of water or the per gallon cost. Our cartridges also remove or dramatically reduce hundreds of harmful contaminates not removed by plastic jug filters.  Chloramines, such as haleoacedic acids and tri-halomethanes are virtually eliminated and chlorine will measure zero ppm. The finest restaurants filter their table and ice making water with these same filters. You can cook, fill your pasta pot, really wash your vegetables or fill a healthy glass water jug for the fridge like in the old days. Coffee and tea tastes delicious. Say goodbye to the inflated expense and hassle of bottled water for good. Its just common sense. These units are stocked on our trucks. Call us today at 508.272.6636 and we will install your KCW2000IT-BB or KCW2000IT-SA right away!
FEATURES AND SPECIFICATIONS
*Zero wasted water.
*No additional faucet needed.
*No cumbersome holding tank.
*16,000 gallons of purified drinking water.
*10 minute installation with simple compression hoses.
*Just 8″ x 15″ x 15″ will fit under any sink.
*Take it when you move.
*Rugged commercial construction.
*No overpriced proprietary cartridges with plastic covers.
*Environmentally responsible.
*WQA Gold Seal Award cartridges.
*Meets or exceeds U.S. NSF and ANSI Standards 42 and for contaminate, chlorine, taste and odor removal.
MODEL KCW2000IT-BB $398.00

MODEL KCW2000IT-SA $448.00
INCLUDED CARTRIDGES: KX MATRIX HC-CTO ( with included sediment removal ) AND KX MATRIX CTO PLUS CHLORAMINE. FLUORIDE SPECIFIC ADD $80.00. LEAD SPECIFIC ADD $40.00
Installation Costs Delivery and installation in our local service area costs $125.00.
Required Service Intervals Cartridges should be changed out every 12 to 18 months depending on use and incoming water quality. Our technicians will remove and dispose used cartridges, professionally clean and disinfect housings and install fresh O-ring gaskets and cartridges. Service including cartridges cost $209 plus sales tax on parts only. Specialized cartridges are additional cost at servicing.
DISCLAIMER: Not for use for water that is untested or biologically unsafe. When unsure, have you water sampled and tested by a qualified water professional at a Ma State Approved Laboratory. UV Sterilization or other disinfectant methods may be necessary before safety is assured.