---
MODEL WH3500IT WHOLE HOUSE FILTER SYSTEM  MADE IN ITALY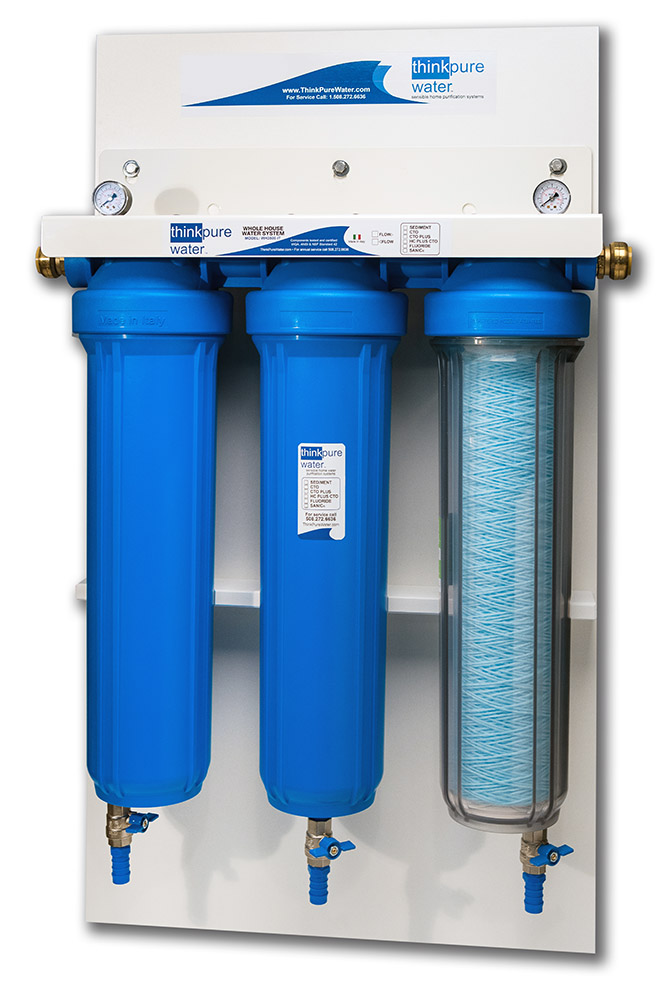 Shower and bathe in wellness enhancing purified water. The WH3500IT is our premium Made in Italy Whole House Filter System. The system removes or dramatically reduces chlorine, and hundreds of other toxic chemicals known to be in tap water. Your water, throughout your home is transformed into cleaner, clearer spring like water. Numerous clients have reported immediate improvements in skin, softness of hair and an overall feeling of well being. See:  "Whole House Water Purification: What You Need To Know Before You Purchase" on the home page.
CONTAMINATE TARGETING WITH DESIGNATED CARTRIDGES
Your system can be set up to get the best possible results based on your water chemistry by choosing from a variety of NSF, WQA and ANSI approved and rated cartridges. From the initial sediment cartridge, to CTO Carbon Block, to CTO Plus Chloramines, to Iron Reduction to Lead to Fluoride Removal and more, we can get it done. Call us for a chat or a free in home consultation at 508.272.6636
FEATURES AND SPECIFICATIONS
*Ultra premium U.S. Sourced activated carbon technology with 15 lbs of media.
*Up to 16 gallons per minute flow capacity ideal for homes with up to 4 to 5 bathrooms.
*Rugged commercial construction with powder coated steel bracket.
*1″ NPT ports for low flow restriction at high flow rates.
*Comes standard with incoming and outgoing analog pressure gauges.
*1/4 turn ball valve sump drain ports for easy breakdown and servicing.
*Unit dimensions: 27″ wide ( less port fittings ) x 36″ high x 10″ deep.
*Operating temperature: min 40 degrees F, max 100 degrees F.
*Operating pressure: min 45 P.S.I. max 120 P.S.I.
*Unit weight: 65 lbs.
*Operational weight: 120 lbs.
*Indoor use only.
*This system as delivered, meets or exceeds U.S. NSF and ANSI Standards 42 for contaminates, chlorine, taste and odor removal. Other NSF Standards can be met with optional cartridges at additional charges.
MODEL WH3500IT $798.00 – $1,148.00 
Sales tax, delivery and installation additional. Fluoride Removal and other specialized cartridges are additional cost.
Required Annual Service Average service intervals are 12 to 15 months, depending on usage and water conditions. Our technicians will remove and dispose used cartridges, professionally clean and disinfect housings and install fresh O-ring gaskets and new cartridges. Service costs $329 – $379.00 plus sales tax on parts only.
System Delivery and Wall Mount To minimize plumbing costs, we offer delivery and panel wall mounting services prior to the arrival of the plumber to plumb in the unit. The wall mount to concrete uses lined wood blocking, 10 concrete anchors and a white formica panel. This service is available in our general service area whether you use your plumber or ours. Cost $295.00.
Plumbing & Installation All whole house systems installed in Massachusetts must be installed by a licensed plumbing professional. Installation includes installing bypass valves to allow the system to be taken off line for servicing without disrupting water flow to the home. Our plumbers are consummate professionals and will do a great job installing your system. Each home is unique in how and where the system is installed. Access, placement of system, pipe size and configuration each affect costs.
Overall Costs A homeowner can expect the above system completely installed and operational to cost in the $2,150.00 – $2,550.00 range. This should be considered a sound investment in the overall quality of the home and the wellness of its occupants.
---

The FlowMaster Stainless Series
The Flowmaster Stainless Dual Tank Whole House System can provide drinking water quality purification where higher flow rates and minimum back-pressure are required. These U.S. Made floor mounted units feature 316L Stainless Steel and precision welded construction throughout. The FlowMaster Series uses a unique multi cartridge design with models for 20", 30" or 40" cartridge lengths for designed flow rates. Units are available with up to 22 cartridges and up to 600 GPM flow rates.
Our in stock Model FSS-430 uses four 2.5" x 30" standard radial flow cartridges and is rated @ 60 GP.M. The carbon unit comes standard with Matrix-CTO Plus Chloramine 1 Micron Cartridges. The sediment unit comes with Purity-1 Micron Pleated Cartridges. The FSS-430 filters 140,000 gallons before service at NSF ANSI Standard 42. The overall goal of the FlowMaster Series is to provide a robust and rugged system, superior filtration characteristics and the lowest possible maintenance costs per gallon. The Flowmaster can be skid mounted and precoupled at additional cost. (pictured with optional Scale Control System)
USES INCLUDE
Larger homes with 6+ bathrooms
Multiport Shower Systems.
Apartment buildings
Restaurant ingredient water
Whole Restaurant Water
Health clubs
Nursing homes
Hospitals
Laboratory pre-filtration
Food processing
Hotels Schools etc.
FEATURES
Flow rates up to 600 Gallons Per Minute
145 P.S.I. Operating Pressure
Band clamp or swing bolt closure
Stocked FSS-430 has 2" MNPT ports
Accessible pipe fitting design
Choice of pipe fittings
4, 12 and 22 cartridge models
Gasket material choice
Knife edge cartridge seals
Mechanical floor mount brackets
Model FSS-430-S ( sediment ) $1,498.00
Model FSS-430-C ( carbon ). $1,748.00